We are so grateful for the opportunities that were made possible in 2019 thanks to our community of supporters. Here are just 7 of the many 2019 Bissell Highlights we experienced this past year; full of memorable moments and significant happenings.
1) Community Delivers Mountain of Warm Clothing During Cold Snap
Just as we are experiencing right now, last February was dangerously cold. Donations of warm clothing, food, and funds rushed in, allowing us to meet the increased needs due to the extreme weather. Because of the generosity and compassion of our community, those trying to survive on the street found relief from the stress and harm that the bitter cold can cause.
---
2) Supporters Raise 120k in Winter Walk-A-thon
Our 2nd Annual Coldest Night of the Year (CNOY) fundraising walk was a huge success! Edmontonians walked 2, 5 or 10k in the shoes of those experiencing homelessness in our city. To our amazement, over 450 walkers and 64 teams came together to help us smash our goal of $100,000 to raise a total of $121,000! Local businesses LOVE Pizza and Nook Café once again provided warmth and treats for our walkers along their trek. We were also grateful to the Royal Alexandra Hospital Foundation for stepping up to be our lead sponsor! #WalkForBissell again on February 22nd during Coldest Night of the Year, 2020!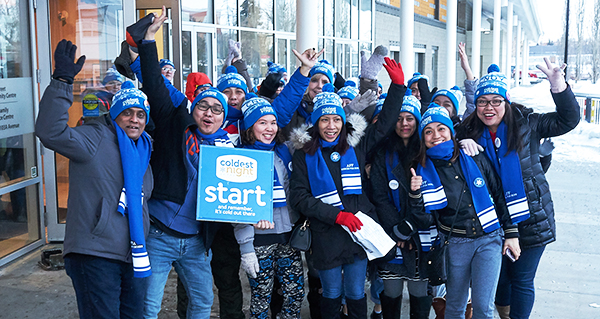 ---
3) Community Art Project Showcased at Art Gallery of Alberta
Sept 17th – October 27th, 2019, Artwork by Bissell Centre program participants was showcased in the Community Gallery at the Art gallery of Alberta. Cycles & Circles was a project created to help people understand the effects of the opioid crisis from the inside. Numerous participants attended workshops to learn how to express their experience with addiction; whether it be written or through visual art. Each expression was vulnerable, unique and honest. To see these works on the walls of the AGA was an uplifting, affirming, and healing experience for all involved.
---
4) Bissell Participants Challenge EPS to Chili Cook-off
October 17th, 2019 was a very special day at Bissell Centre, our participants challenged the EPS beat crew to a chili cook-off in our Community Kitchen! The beat crew accepted the challenge and showed up, uniforms and all! It was a morning of laughter and teamwork that helped ease past tendons and facilitated healing by finding common ground. We look forward to this becoming an annual event!
---
 5) Construction Begins on New Early Learning and Child Care Centre
This past fall, construction on our new Early Learning and Child Care Centre began! The new centre will allow Bissell to offer more programming and supports to families experiencing poverty. Until now, we have provided 40 free respite childcare spots and we are thrilled to soon offer an additional 30 full-time spots when the new centre opens. We expect to provide care and support for over 400 individual children each year, so as you can imagine we are very excited to open the doors and get busy! To do so, there are still more funds to be raised — you can learn more about our project and share your support here. THANK YOU to the many individuals, groups, and businesses who've contributed so far! We are grateful!
---
6) Longtime Bissell Centre Staff Honoured by Province
On December 9th, 2019 at the Government House of Alberta, dignitaries and family members gathered to recognize Albertans that personify excellence in the community. Fatima Bellahmer, a longtime employee of Bissell Centre, received the Minister's Award for Excellence in Childhood Development. For 33 years, Fatima has dedicated her life to caring for the children that come through Bissell Centre's Doors. Thousands of children have been in Fatima's care through the years, and she's never forgotten a single one. We are so proud of what Fatima has accomplished during her years at Bissell Centre and are so honoured she chose Bissell Centre to carry out her good work. Congratulations Fatima and thank you!
---
7) Community Steps up to Save Christmas by Donating hundreds of Toys
The tables in our Festive Giveaway room were only half full when we took to social media to ask the public for toy donations in December. Within an hour of the post, toys started rolling in by the dozens! Over a 3 day span, person after person made their way through our doors with toys for our families. The annual program usually operates for 3 days, but we received so many donations that we were able to offer 2 whole additional days for parents to find the perfect gift for their little ones! More than 500 children received toys from our program! An overwhelming way to wrap up an excellent 2019 with Edmonton proving once again why we are known as the City of Champions.
Thank you for your incredible generosity in 2019! Your support makes a big difference in the lives of people living in poverty, as you can see from these 2019 Bissell Highlights! ♡
---
Help create more memories like these in 2020 by joining our family of supporters.
Make a donation.